Jamie Baxter
Professor
Associate Dean Graduate Affairs (Social Science)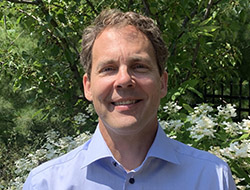 Contact Information
Office: Room 1407, SSC
Tel: 519 661-2111, 81241
E-mail:
jamie.baxter@uwo.ca
Research Areas
Social construction of risk, community responses to technological hazards, renewable energy policy, noxious facility siting, and methodology
Research Interests
I am a social scientist interested in a variety of topics including: environmental risks from hazards, community responses to technological hazards, environmental inequities, environment and health, geography of health, noxious facility siting, and methodology.
---
Teaching
GEO 2152 – Geography of Hazards
GEO 3432 – Environmental Hazards and Human Health
GEO 9108 – Qualitative Methods
---
Supervised Graduate Students and Theses Titles
PhD Students
D. Babicki (Current) Eco-districts and energy consumption
A. Byrne (Current) All Hands at the Table: Exploring Rural and Urban Coastal Foodscapes in Newfoundland
C. Mang Benza (Current) Meeting energy needs in an energy scarce community
C. Walker (2017) Wind Turbine Risks and Politics in Canada
L. Deacon (2010) Environmental Justice in Canada: A Media and Case-Study Analysis
R. Hirsch) (2010) Pesticide Policy Preference and Risk Perception in Canada: A Case Comparison in the Neighbourhood Context
D. Stiller (2002) Overcoming benign neglect: The evolution of federal and Montana policies toward abandoned hardrock mines and the environment
University of Calgary
Masters Students
P. Grewal (2022) Community-based renewable energy development
S. Wilson (2021) Community Attitudes and Wind Energy Development Types: A Comparative Study in Ontario and Nova Scotia
O. Ladele (joint-supervised) (2020) Food waste avoidance and food/organic collection programs
J. Fuller (2019) Social influences on decision making for hybrid-electric and electric vehicle purchases
C. Mang Benza (2018) Upgraded from Masters Program to PhD Program
C. Warring (2018) The uphill battle of environmental technologies: Analysis of local discourses on the acceptance and resistance of Green Bin programs
S. Da Rosa Holmes (co-supervised) (2017) Beyond the Edge of the Planted Field: Exploring Community-based Environmental Education, and Invisible Losses in Settler and Indigenous Cultural Contexts
J. Bayne (2016) The Effects of Municipal Waste Disposal Method on Facility Support and Diversion Attitudes and Behaviours
C. Walker (2012) Perceptions of Wind Turbine Risks in Ontario
S. Larock) (2009) Risk-in-context: The impact of a local land use dispute on perceptions of technological risk
N. Bhoi (2008) Environmental Justice in Five Major Canadian Cities
C. Brown (2005) Urban pesticide use risk perception and policy
S. van Rheenen (2004) The effectiveness of Brownfield a committee for hazard risk minimization
University of Calgary
K. Greenlaw (2001) Understanding views and opinions of risk: A comparative analysis of Fort Assinibione, Barrhead, and Kinuso Alberta
University of Calgary
D. Lee (1999) Understanding views of risk: A case study of Swan Hills Alberta
University of Calgary
---
Publications
Refereed Journals
Walker C. & Baxter J. (2019). "Method sequence and dominance in mixed method research: An investigation of the social acceptance of wind energy literature." International Journal of Qualitative Methods.
Walker C., Stephenson L. & Baxter J. (2018). "His main platform is 'stop the turbines': Political discourse, partisanship and local responses to wind energy." Canada Energy Policy, 123: 670-681.
Songsore E., Buzzelli, M. & Baxter J. (2018). "Understanding developer perspectives and experiences of wind energy development." Ontario Environment and Planning C: Politics and Space, 36(4): 649-668.
Sekercioglu, M. F., White, J., Shrubsole, D. & Baxter, J. (2018). "Towards a Sustainable Small Non-Community Drinking Water System in Ontario: Owners' Risk Awareness and Perceptions to Water Safety." Journal of Sustainable Development, 11(3), 71.
Sekercioglu, F., White, J., Shrubsole, D. & Baxter, J. (2018). "Relationship between operational characteristics of small non-community drinking water systems and adverse water quality incidents in southern Ontario, Canada." 
Applied Ecology and Environmental Research, 16(1), 777-789.
Baxter, J. (2017). "Participation promotes acceptance." Nature Energy, 2.
Mason-Renton, S. A., Luginaah, I. & Baxter, J. "The community divide is more detrimental than the plant itself: Confrontational stigma and community responses to rural facility siting." Journal of Rural and Community Development, 11(2): 22-44.
Walker, C. & Baxter J. (in press) (2016). "It's hard to say 'I don't want my community to benefit!': Wind energy siting and distributive justice in Canada." Journal of Environmental Policy and Planning, 133: 358-365.
Laferriere, K., Crighton, E., Baxter, J., Lemyre, L., Masuda, J. & Ursitti, F. (2016). "Examining inequities in children's environmental health: Results of a survey on the risk perceptions and protective actions of new mothers." Journal of Risk Research, 19(3), 271-287.
Baxter, J., Ho, Y., Rollins, Y. & Maclaren, V. (2016). "Attitudes toward waste to energy facilities and impacts on diversion in Ontario, Canada." Waste Management, 50, 75-85.
Fast, S., Mabee,W., Baxter, J., Christidis, T., Driver, L., Hill, S., McMurtry, J. J. & Tomkow, M. (2016). "Lessons learned from Ontario wind energy disputes." Nature Energy, DOI: 10.1038/NENERGY.2015.28.