Jeff Hopkins
Associate Professor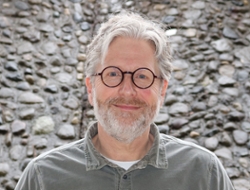 Contact Information
Office: Room 2423, SSC
Tel: 519 661-2111, 85027
E-mail:
jhopkins@uwo.ca
Research Areas
I am not accepting graduate students at this time.
Cultural geography, gender, public places
Research Interests
I am interested in the many cultural conflicts that arise between people over the use, design, control, representation and identity of places. My study of both the material (physical) and immaterial (social, symbolic) aspects of Western Landscapes focuses on four inter-related themes:
Public Places - indoor/underground cities, public libraries, shopping malls, tourist sites;
Symbolic Landscapes - advertisements, film;
Cultural Studies - consumption, cultural politics, postmodernism, semiotics, space;
Gender - masculinities.
---
Teaching
GEO 1400 – Introduction to the Human Environment
GEO 3416 - Urban Culture
GEO 9518 - Advanced Cultural Geography
GEO 9998 - Debates in Geographic Thought
---
Supervised Graduate Students and Theses Titles
PhD Students
W. Kinghorn (2018), The place making processes underlying the creation, perpetuation and management of Heritage Conservation Districts
Y. Li (2000), A phenomenological study of tourists' travel experiences
Masters Students
B. Davey (joint-supervised) (Current), Socially constructed attitudes of the appropriate displays of nudity within domestic spaces
K. Unger-Basappa (Current) The integration of refugees into society from a cultural and geographical perspective 
C. Welch (Current) Food Consumption Practices of Western University Social Science Students by Gender
S. Mchenry (2018) The Changing Spaces of Racialized Contestation in Brampton, Ontario; A Multimedia analysis
J. Campbell (2017) Exploring Factors Influencing Children's use of a Free Recreation Access Pass: Does Geography Matter?
M. Milczarek (2012) Emotional Geographies of Home: Place Identities Among Senior Women Residing in a Long-Term Care Facility
V. Munro (2005) Spaces of female friendship
G. Howard (2005) Seasonal variation in residents' lived geographies in a tourist town: Stratford, Ontario
M. Feehely (2003) Investigating heteropatriarchy in the landscape: A hidden beach at Grand Bend, Ontario
---
Publications
Chapters in Books
Fellman, J.D., Getis, A., Getis, J., Shrubsole, D. and Hopkins, J. (2010). Human Geography: Landscapes of Human Activities, (Canadian Edition). McGraw-Hill:Whitby.