Carol Hunsberger
Associate Professor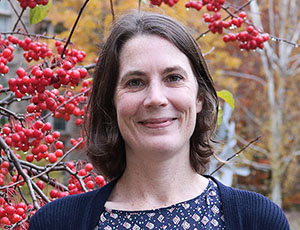 Contact Information
Office: Room 2409, SSC
Tel: 519 661-2111, 85020
E-mail:
chunsber@uwo.ca
Research Areas
Political ecology, energy justice, biofuels, pipeline politics, environmental governance
Research Interests
I am a human geographer interested in the political ecology of energy systems, especially biofuels and pipelines. On one level this means studying the outcomes of energy projects for livelihoods and ecologies across scales. On another level it means considering how discourses attached to climate change, economic priorities, and competing interpretations of development and the 'public interest' influence patterns of governance, investment, promotion and resistance for energy projects. I am especially interested in how people with different positions on controversial issues interpret justice and fairness, and how the diverse values and priorities that they raise are reflected in decision-making processes.
More broadly I am interested in land use and the governance of environmental change. I have a persistent side interest in the politics of knowledge and how environmental issues are communicated. At different times this has expressed itself through work on scenario analysis, experiential education, global environmental assessment reports and community radio. Previously I have worked in Kenya though my current research focus is on energy projects in Canada.
---
Teaching
GEO 1500 – Environment and Development Challenges
GEO 3443 – Energy and Power
GEO 3250 – Research Methods in Geography
GEO 9106 – Development Geography
---
Supervised Graduate Students and Theses Titles
PhD Students
C. Dakin (current) Indigenous Energy Justice
Masters Students
B. Davey (joint-supervised) (Current) Un/Bound breasts: A geographical account of embodiment 
M. Gilhooly (Current) Just Transitions, Political and Spiritual Ecology
S. Doris (2020) Barriers to Access: The experience of energy poverty & extreme heat
I. Diaz (2016) Coffee Agroecology, Food Sovereignty, and Agrarian Livelihoods in Puerto Rico
M. Boes (2013) Household livelihood diversification and perceived vulnerability to risks in rural Mali
E. Wabusya (2013) Policy Outcomes and Community Perceptions of a Dryland Invasive Species: A Case Study of Prosopis juliflora in Baringo County, Kenya
2M. Awuni (2013) Dilemmas of implementing Reducing Emissions from Deforestation and Forest Degradation (REDD+): Evidence from REDD+ pilots in Ghana
---
Publications & Supervised Graduate Students and Theses Titles
Refereed Journals
Hunsberger, C, L German and A Goetz. In press. "Unbundling" biofuels: querying the ability of liquid biofuels to deliver on socio-economic policy expectations. Energy Policy.
Goetz, A, Schmidt, L German, C Hunsberger and O Schmidt. In press. Do no harm? Risk perceptions in national bioenergy policies and actual mitigation performance. Energy Policy.
German, L, A Goetz, T Searchinger, G de LT Oliveira, J Tomei, C Hunsberger and J Weigelt. In press. Sine Qua Nons of sustainable biofuels: Distilling implications of under-performance for national biofuel programs. Energy Policy.
Hunsberger, C, E Corbera, SM Borras Jr, R de la Rosa, V Eang, JC Franco, R Herre, SS Kham, C Park, S Sokheng, M Spoor, S Thein, K Thu, R Thuon, C Vaddhanaphuti, K Woods and C Work. In press. Land-based climate change mitigation, land grabbing and conflict: towards a landscape-based and collaborative research agenda. Canadian Journal of Development Studies.
Hunsberger, C. 2016. Explaining bioenergy: Narratives of jatropha before and after disappointing results. SpringerPlus.
Hunsberger, C and A Alonso-Fradejas. 2016. The discursive flexibility of 'flex crops': comparing oil palm and jatropha. Journal of Peasant Studies 43(1):225-250.
Robledo-Abad, C et al. 2016. Bioenergy production and sustainable development: science base for policy-making remains limited. Global Change Biology Bioenergy.
Hunsberger, C. 2015. Learning from the failures of biofuels governance. Canadian Food Studies 2(2): 304-312.
Hunsberger, C and S Ponte. 2014. 'Sustainable' biofuels in the global South. Geoforum 54: 243-247.
Hunsberger, C., Bolwig, S., Corbera, E. and Creutzig, F. 2014. Livelihood impacts of biofuel crop production: Implications for governance. Geoforum.
Hunsberger, C. 2014. Jatropha as a biofuel crop and the economy of appearances: experiences from Kenya. Review of African Political Economy 40(140).
Jabbour, J. and Hunsberger, C. 2014. Visualizing relationships between drivers of
environmental change and pressures on land-based ecosystems. Natural resources 5:146-160.
Creutzig, F., Corbera, E., Bolwig, S., and Hunsberger, C. 2013. Integrating place-specific livelihood and equity outcomes into global assessments of bioenergy deployment. Environmental Research Letters 8, Article 035047.
Sikor, T., Auld, G., Bebbington, A., Benjaminsen, T., Gentry, B., Hunsberger, C., Izac, A-M, Margulis, M., Pleninger, T., Schroeder, H. and Upton, C. 2013. Global land governance: from territory to flow? Current Opinion in Environmental Sustainability 5(5), pp. 522-527.
Jabbour, J., Keita-Ouane, F., Hunsberger, C., Sánchez-Rodríguez, R., Gilruth, P., Levy, M.A., Patel, N., Singh, A. and S. Schwarzer. 2012. Internationally agreed environmental goals: a critical evaluation of progress. Environmental Development 3:5-24.
Creutzig, F., von Stechow, C., Klein, D., Hunsberger, C., Bauer, N., Popp, A. and O. Edenhofer. 2012. Can bioenergy assessments deliver? Economics of energy and environmental policy 1(2):65-82.
Hunsberger, C. 2010. The politics of Jatropha-based biofuels in Kenya: convergence and divergence among NGOs, donors, government officials and farmers. Journal of Peasant Studies 37(4):939-962.
Chapters in Books
Wang, C, SM Borras and C Hunsberger. 2016. Contemporary agrarian transformation and rural development: large-scale land investment and the question of labour. In: Towards employment intensive growth in South Africa, Anthony Black (Ed). University of Cape Town Press: Cape Town.
Hunsberger, C. 2015. The discursive and material flexibility of Jatropha curcas. Pages 132-147 in: The political ecology of agrofuels, Dietz, K, B Engels, O Pye and A Brunnengräber (Eds), Routledge.
Hunsberger, C, SM Borras Jr, JC Franco and C Wang. 2014. Large-scale land transactions: Actors, agency, interactions. Pages 201-216 in: Rethinking global land use in an urban era, KC Seto and A Reenberg (Eds), MIT Press: Cambridge, MA.
Gentry, B.S., Sikor, T., Auld, G., Bebbington, A.J., Benjaminsen, T.A., Hunsberger, C.A., Izac, A.-M., Margulis, M.E., Pleininger, T., Schroeder, H., Upton, C. 2014. Changes in land-use governance in an urban era. Pages 239-272 in: Rethinking global land use in an urban era, Seto, K.C. and Reenberg, A. (Eds), MIT Press: Cambridge, MA.
Hunsberger, C., Evans, T. et al. 2012. Land. Chapter 3 in Fifth Global Environment Outlook (GEO-5) report of the United Nations Environment Programme, pp. 65-96. UNEP: Nairobi. (Coordinating Lead Author)
United Nations Environment Programme. 2009. Ecosystem Management. Chapter 1 in UNEP Year Book 2009, pp. 1-10. United Nations Environment Programme. (Contributing author)