Jed Long
Assistant Professor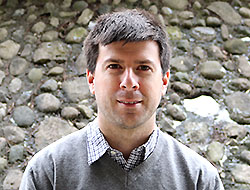 Contact Information
Office: Room 2405, SSC
Tel: 519 661-2111, 87319
E-mail:
jed.long@uwo.ca
Research Areas
GIS/GIScience, GPS tracking, movement, space-time models, spatial ecology, open source software
Research Interests
My research involves using geographic information systems (GIS) and other spatial analysis techniques in the study of movement (e.g., using GPS tracking). Specifically, I am interested in developing and applying novel methods for spatial and space-time analysis. I am also interested in other research areas relating more broadly to GIScience; including spatial modelling, volunteered geographic information (and non-traditional data), and map comparison. Finally, as a huge sports fan, I am fascinated by ways spatial data and analysis can be used in sports analytics.
---
Teaching
GEO 3210 – Geocomputation
GEO 3224 – Spatial Ecology and GIS
GEO 9113 – Geographical Data & Analysis
---
Supervised Graduate Students and Theses Titles
PhD Students
M. Malekzadeh (Current) Computational Movement Analysis/ Urban Analysis/ Transportation
Masters Students
A. Iyer (Current) Movement of birds along migration routes: habitat analysis and conservation
R. Kirton (Current) Movement ecology of White Tailed Deer in Oklahoma
B. Klar (joint-supervised) (Current) Spatial analysis of urban and regional travel patterns, and geostatistical analysis methods
D. Liu (joint-supervised) (Current) Impact of Urban Design on Motor Vehicle Collisions
J. McIlraith (Current) Environmental modelling, spatial analysis and GIS application development/ automation
---
Publications
Refereed Journals
Solène Marion, Althea Davies, Urška Demšar, R Justin Irvine, Philip A Stephens, Jed Long (2020) A systematic review of methods for studying the impacts of outdoor recreation on terrestrial wildlife. Global Ecology and Conservation e00917.
Urška Demšar, Jed A Long (2019) Potential path volume (PPV): a geometric estimator for space use in 3D. Movement Ecology 7(1), 14.
Jed A Long (2019) Estimating wildlife utilization distributions using randomized shortest paths Landscape Ecology 34(11):2509-2521.
Vanessa S Brum-Bastos, Jed A Long, Urška Demšar (2018) Weather effects on human mobility: a study using multi-channel sequence analysis. Computers, Environment and Urban Systems 71: 131-152.
JA Long, Robert Weibel, Somayeh Dodge, Patrick Laube (2018) Moving ahead with computational movement analysis International Journal of Geographical Information Science 32(7):1275-1281.
Jed A Long (2018) Modeling movement probabilities within heterogeneous spatial fields Journal of Spatial Information Science 2018(16):85-116.
Jed Long, Colin Robertson, Trisalyn Nelson (2018) stampr: Spatial-Temporal Analysis of Moving Polygons in R. Journal of Statistical Software vol. 84.
J Long, S Marion, P Stephens, J Irvine (2018) Outdoor recreation and wildlife. Deer, Journal of the British Deer Society 18(9):42-45.
Caroline Damgaard, Darren McCauley, Jed Long (2017) Assessing the energy justice implications of bioenergy development in Nepal. Energy, Sustainability and Society 7(1):8.
Marie Le Roux, Mathilde Redon, Frédéric Archaux, Jed Long, Stéphane Vincent, Sandra Luque (2017) Conservation planning with spatially explicit models: a case for horseshoe bats in complex mountain landscapes. Landscape Ecology 32(5):1005-1021.
Ruth E Crawford, Jed A Long (2017) Habitat preferences of juvenile Scottish Ospreys Pandion haliaetus at stopover and wintering sites. Ringing & Migration 32(1):1-18.
Jed Long, Colin Robertson (2017) Comparing spatial patterns, Geography Compass 12(2).
Esther L Jones, Luke Rendell, Enrico Pirotta, Jed A Long (2016) Novel application of a quantitative spatial comparison tool to species distribution data. Ecological Indicators 70:67-78.
Katarzyna Siła-Nowicka, Jan Vandrol, Taylor Oshan, Jed A Long, Urška Demšar, A Stewart Fotheringham (2016) Analysis of human mobility patterns from GPS trajectories and contextual information. International Journal of Geographical Information Science 30(5):881-906.
Jed A Long (2016) Kinematic interpolation of movement data. International Journal of Geographical Information Science 30(5):854-868.
Sierra A Marantz, Jed A Long, Stephen L Webb, Kenneth L Gee, Andrew R Little, Stephen Demarais (2016) Impacts of human hunting on spatial behavior of white-tailed deer (Odocoileus virginianus) Canadian Journal of Zoology 94(12):853-861.
Jed A Long, Stephen L Webb, Trisalyn A Nelson, Kenneth L Gee (2015) Mapping areas of spatial-temporal overlap from wildlife tracking data. Movement Ecology 3(1):38.
Jed Long, Trisalyn Nelson (2015) Home range and habitat analysis using dynamic time geography. The Journal of Wildlife Management 79(3):481-490.
Trisalyn Nelson, Jed Long, Karen Laberee, Benjamin Stewart (2015) A time geographic approach for delineating areas of sustained wildlife use. Annals of GIS 21(1):81-90.
Jed A Long (2015) Quantifying spatial-temporal interactions from wildlife tracking data: Issues of space, time, and statistical significance. Procedia Environmental Sciences 26:3-10.
Jed A Long, Trisalyn A Nelson, Stephen L Webb, Kenneth L Gee (2014) A critical examination of indices of dynamic interaction for wildlife telemetry studies. Journal of Animal Ecology 83(5):1216-1233.
Jed A Long, Trisalyn A Nelson, Farouk S Nathoo (2014) Toward a kinetic-based probabilistic time geography. International Journal of Geographical Information Science 28(5):855-874.
C Robertson, JA Long, FS Nathoo, TA Nelson, CCF Plouffe (2014) Assessing quality of spatial models using the structural similarity index and posterior predictive checks. Geographical Analysis 46(1):53-74.
Jed A Long, Trisalyn A Nelson (2013) Measuring dynamic interaction in movement data. Transactions in GIS 17(1):62-77.