Dan Shrubsole
Professor
Assistant Dean (Social Science)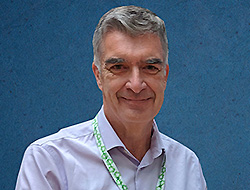 Contact Information
Office: Room 9438, SSC
Tel: 519 661-2111, 87236
E-mail:
dashrubs@uwo.ca
Research Areas
Integrated resource management (water)
Research Interests
Research interests are in resource and environmental management including:
Integrated water management in Canada
Integrated catchment management in Queensland, Australia
Policy implementations and evaluation
---
Teaching
GEO 9099 – Research Design and Presentation
---
Supervised Graduate Students and Theses Titles
PhD Students
D. Bednar (joint-supervised) (2018) The Governance of Climate Change Adaptation in Canada: Two Multilevel Case Studies
F. Sekercioglu (joint-supervised) (2018) Ontario's Small Non-community Drinking Water Systems: Risk Perception and Communication Relating to Drinking Water Safety
G. Oulahen (joint-supervised) (2014) The production of unequal vulnerability to climate hazards in Metro Vancouver, Canada
J. Schmidt (2012) Fairness in water allocation
C. Priddle (2009) Adaptive Capacity in Response to Revolutionary Change: The Case of Ontario's Conservation Authorities
D. Walters (2005) An assessment of a decision support system for nutrient management in Ontario
Masters Students
E. Cameron (Current) Perceptions of real estate sector on urban flooding in Edmonton, Alberta 
D. Bednar (2012) Geography, News Media Discourse, and Water Management: A Case Study of the Devils Lake Outlet
B. Cook (2006) Flood damages in British Columbia: An analysis of causal factors
D. Sandink (2006) Perceptions of flood hazards in Peterborough, Ontario
C. Powell (2003) Assessing the implementation of storm water management for the protection of wetlands in London, Ontario
D. Walters (1999) Evaluating Ontario's drainage act and wetland management
J. Mateo‑Vega (1999) An evaluation of environmental assessment in Costa Rica
T. Saab (1999) Pollution from septic systems: Assessing the implementation of Ontario EPA regulation 358 and the clean up rural beaches (CURB) program
B. Steinburg MPA (1997) Policy formulation for the management of lands owned by conservation authorities in Ontario
R. Tyrie (1995) PCB contamination of Pottersburg Creek: A study of risk awareness, perception and management
J. Scherer (1995) Floodplain regulation and the residential real estate sector in Cambridge and Brantford, Ontario
V. Hammond (1994) Evaluation of floodplain as implemented by the Upper Thames Conservation Authority: A case study of London, Ontario 1978-1989
I. Wilcox (1992) Environmental regulation: An assessment of the practice of agricultural pollution control in Ontario
---
Publications
Refereed Journals
Sekercioglu. M.F., J. White, D. Shrubsole and J. Baxter. (2017). "Relationship between Operational Characteristics of Small Non-community Drinking Water Systems and adverse Water Quality Incidents in Southern Ontario, Canada."  Applied Ecology and Environmental Research.
Sekercioglu. M.F., J. White, D. Shrubsole and J. Baxter. (2017). "Towards a Sustainable Small Non-Community Drinking Water System in Ontario: Owners' Risk Awareness and Perceptions to Water Safety."  Journal of Sustainable Development.
Shrubsole, D., D. Waters, B. Veale and B. Mitchell. (2017).  "Integrated Water Management in Canada: The Experience of Watershed Agencies."  International Journal of Water Resources Development, 33(3): 349-359.  
Sandink, D., P. Kovacs, G. Oulahen and D. Shrubsole. (2016). "Flood Management in Canada: Review and Commentary on Cost Sharing and Risk Transfer for Flood Losses."  Canadian Water Resources Journal, 41(1-2): 220-237.