Roza Tchoukaleyska
Assistant Professor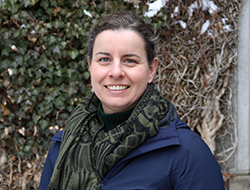 Contact Information
Office: Room 2413, SSC
Tel: 519 661-2111, 85030
E-mail:
rtchouka@uwo.ca
Research Areas
Community planning, public space, social landscapes, food cultures
Research Interests
I am a cultural geographer and planner with an interest in public space planning, cultures of consumption, and social sustainability. Through my research I considers how public space is conceptualized, the ways in which such sites are shaped through the insertion of food markets, retail, and leisure activities, and the combined impact of these factors on neighbourhood vitality. Viewing public spaces as both social constructions and material spaces, I am guided by questions around the process of community identity making, the role of food in place-making, and the cultural organization of cities. I am concerned with the ways through which decisions related to food policy and public space management mirror wider political, social, and economic debates, and how these factors influence who is seen to form the urban 'public' such initiatives cater to.
---
Publications
Refereed Journals
Tchoukaleyska, R., Carter, K., Dluginski, E., Forward, M., King, A., LeBlanc, O., & Ratcliffe, C. (2022) City-campus connections: Adapting urban planning experiential learning techniques to a smaller city. Journal of Geography in Higher Education, 46(6), 578-598.
Abdulai, A.-R., Oklikah, D., & Tchoukaleyska, R. (2022) 'That was my birth child. I cannot walk away'. Motivations, self-determination, and the formation of farmers in Newfoundland. The Canadian Geographer, 66(3), 485-496.
Abdulai, A.-R., Chireh, V.K., & Tchoukaleyska, R. (2021) Engaging diverse audiences: The role of community radio in rural climate change knowledge translation. Journal of Community Engagement and Scholarship, 13(3), 108-121.
Allyn, K., & Tchoukaleyska, R. (2020) Soundscaping the archives: Disrupting boundaries through sensory research. GeoHumanities, 6(2), 469-475.
Tchoukaleyska, R. (2018) Public places and empty spaces: Dislocation, urban renewal and the death of a French plaza. Urban Geography, 39(6), 944-962.
Tchoukaleyska, R. (2016) Public space and memories of migration: Erasing diversity through urban redevelopment in France. Social & Cultural Geography, 17(8),1101-1119.
Tchoukaleyska, R. (2015) Illicit mint and unregulated vendors: Constructing illegality in French public spaces. Area, 47(1), 81-87.
Tchoukaleyska, R. (2013) Regulating the farmers' market: Paysan expertise, quality production and local food. Geoforum, 45, 211-218.
Tchoukaleyska, R. (2011) Co-housing childhoods: Parents' mediation of urban risk through participation in intentional communities. The Journal of Children's Geographies, 9(2), 235-246.
Chapters in Books
Tchoukaleyska, R. (2019) Redeveloping Montpellier's suburban high-rises: National policy meets local activism in the debate over public space. In: R. Keil, M. Ucuglu, M. Guney (Eds.), Massive suburbanization: (Re)building the global periphery one large-scale housing project at a time (pp. 126-141). Toronto: University of Toronto Press.
Lehrer, U., & Tchoukaleyska, R. (2017) Old wine in new bottles: Land, population growth, and Montpellier's suburban face off. In: N. Phelps (Ed.), Old Europe, new suburbanization? Governance, land and infrastructure in European suburbanization (pp. 133-157). Toronto: University of Toronto Press.