Graduate Opportunities

Katrina Moser - Lakes and Reservoir Systems (LARS) Research Facility
The Lakes and Reservoir Systems (LARS) Research Facility provides opportunities for students to gain expertise in paleolimnological techniques that are used to study the effects of climate change and nutrient enrichment on water resources. LARS currently has a number of undergraduate and graduate student opportunities available.
BSc or MSc Paleolimnological Research Opportunity
A Paleolimnological Investigation of Rock Glacier Lakes in the Uinta Mountains of Utah
MSc or PhD Paleolimnological Research Opportunity
Algal Blooms in Small Ponds in Southwestern Ontario – Causes and Consequences
Holocene Records of Environmental Change in Southwestern Ontario
Please email Katrina Moser and provide a transcript and resume if you are interested.
---
Jed Long - Geospatial Analysis Lab
PhD Opportunity – Movement Ecology of Coyotes at Long Point National Wildlife Area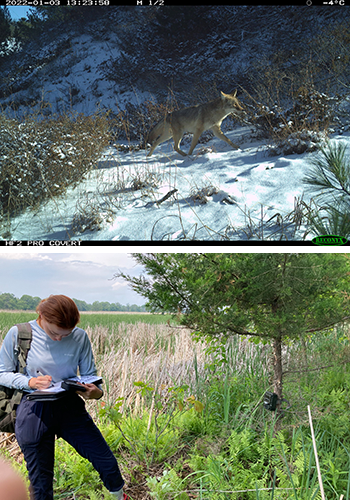 The Geospatial Lab (https://geospatial.uwo.ca/) at Western University is seeking a PhD student to study the movement ecology of coyotes at Long Point National Wildlife Area on the north shore of Lake Erie. The project involves a close collaboration with Canadian Wildlife Service staff at Long Point, along with coyote experts from the Ontario Ministry of Natural Resources and Forestry. The student will be co- supervised by Dr Jed Long and Dr Tyler Wheeldon, enrolled at Western University, but also affiliated with the Canid Ungulate Lab (https://canidungulatelab.wixsite.com/brentpatterson) at Trent University.
An overarching goal of the project is a better understanding of the relationship between coyotes and the managed deer population at Long Point. We are also interested in studying coyote space-use patterns, habitat selection, and the territoriality / interactions between packs in the Long Point National Wildlife Area, along with potential movements out of the study site into southern Ontario.
Full details of position and requirements.
To apply please email a CV, copy of unofficial transcripts, and example of written work (e.g., a project paper) to Jed Long.
---
Roza Tchoukaleyska - Community planning, food cultures, and economic development
Two MA positions are available with a September 2023 start date
MA opportunity - Post-COVID urban food landscapes
The goals of this project are to better understanding the impact of COVID-19 on urban food processes. Students can choose to focus on: community gardens, food markets, urban agriculture, or related topics, and will be encouraged to develop a research project that includes qualitative data collection in London and area.
MA opportunity – The role of social enterprise in community economic development
Students will work within an existing research project that examines the role of social enterprise in supporting community resilience and economic development. The project includes case studies in Ontario and Newfoundland, with community partners and research collaborators in each location. Students will gain qualitative and community-based research skills, have opportunities to connect with researchers via the PhiLab network, and will work closely with research partners in Ontario and/or Newfoundland.
If interested, please email Roza Tchoukaleyska with a CV and transcript.
Roza Tchoukaleyska biography
---